As we noted in a post last year,  the addition of a deck to a home bodes well for the property's resale value.  Estimates of Return On Investment for adding a deck  are in the 65%-80% range, nationally.  Since the use value of a deck is partly a function of climate, we're on the high end here in SoCal. Our amazing climate, of course, keeps our decks in use year-round.  In contrast, a New England homeowner is pretty well frozen out of deck life November – May.   In this post we'll take a closer look at factors affecting ROI on deck building in our area.  Deck economics are actually pretty straightforward.  Let's look at two key factors.
DECK ECONOMICS 101: SIZE MATTERS
Other things being equal, bigger is better.  But only up to a point. And, of course, other things are rarely equal. This quickly becomes obvious when we ask ourselves what, exactly, a deck is.
Well, it's a room. That is, a room without walls.  So, what's the right size for a room addition to a home?  The owner of a 2,500 square foot house might, for personal reasons, find it right to add a new room the size of a basketball court. Because he like's to play basketball indoors. Okay, great. But ROI? Think there's a lot of demand out there for  modest three-bedroom homes with indoor basktball courts added? Not likely.
There's an optimum deck size with regard to ROI at resale. Too big, and the added burdens of property taxes, maintenance, insurance, and loss of open land overwhelm the benefits. Too small, and what's it really good for?  But most importantly, how will prospective buyers perceive the deck size?  Sale prices, after all,  are driven by demand. A multitude of interested buyers is a good thing. So is a small number (including 1!) of buyers willing to pay a premium for something exceptional. However, the ROI odds favor the property that appeals to the many.
DECKONOMICS 101: SUBSTANCE MATTERS
The second key factor in deck economics and ROI is the stuff it's made of. The materials of which it's built.  As in the case of the size factor, maximizing ROI means seeing things through the eyes of prospective buyers.  Pleasing them, before pleasing yourself.
And most importantly, pleasing prospective buyers during that critical window when they inwardly decide whether they're interested. We can argue the fine details, but realtors have long known that house shoppers make decisions to offer within the first few minutes of viewing a property. A famous recent study pegs it at 5 minutes.
This is very likely one reason why good old-fashioned wood remains the #1 deck material for ROI. It looks classic and rich. It stirs the emotions. Emotions overwhelm "petty" consideration of long-term maintenance and repair expense. Buyers literally fall in love with wood.
MONEY ISN'T EVERYTHING
We see that regarding the two key factors in deck economics, size and materials, there's a potential conflict. A clash between the homeowner's preferences, for use and enjoyment of the deck, and ROI. Here's where the experience of veteran Los Angeles deck builders and designers comes to the rescue. There are solutions that serve both goals.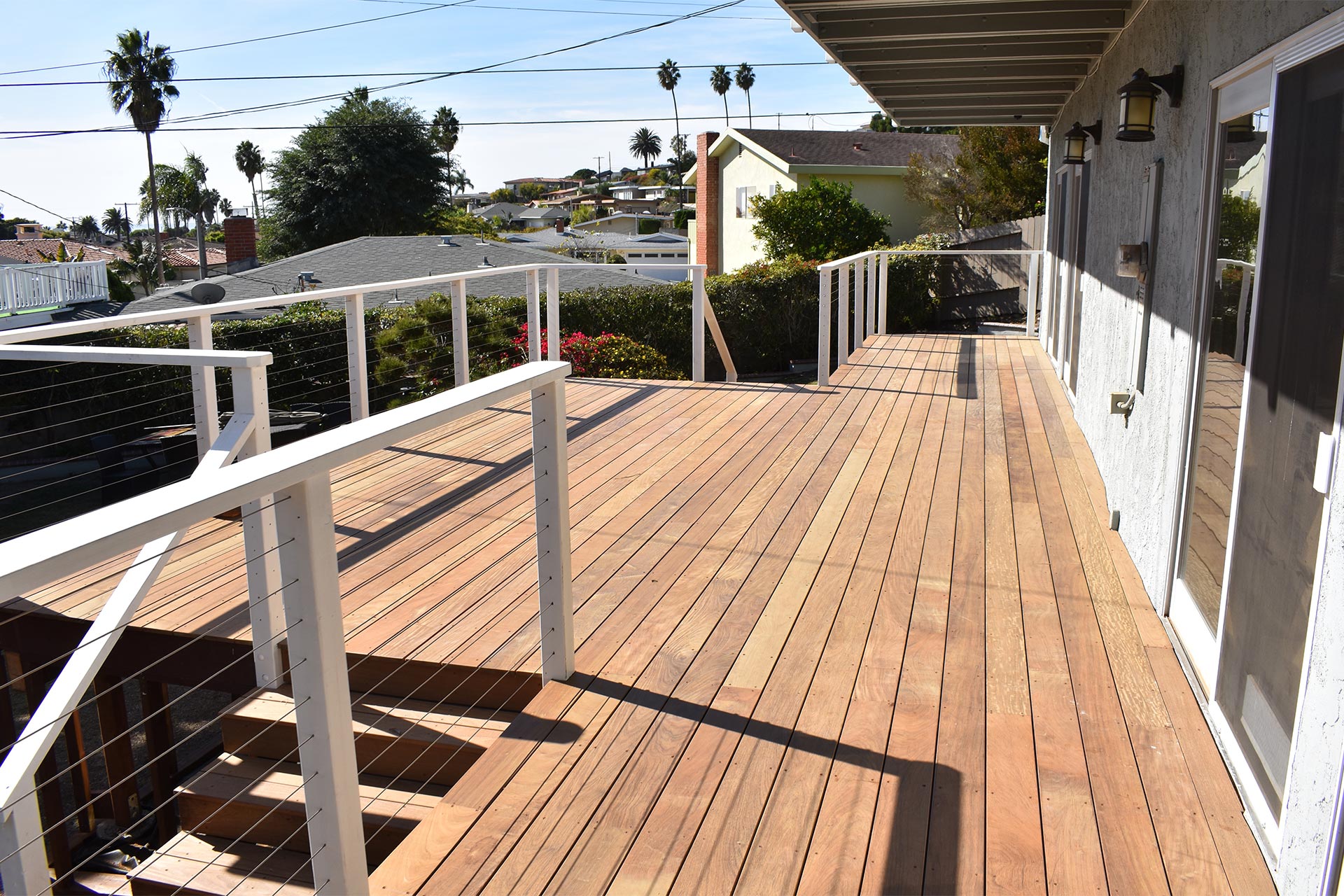 MG Construction & Decks offers several interior and exterior remodeling services in Los Angeles California. There is no project too small or too large. However, the majority of our focus has been focused on: