Award Winning Contractor and Designer
Client Reviews
Read testimonials from some of our satisfied customers
Absolutely pleased with MG Construction. We had to do repairs to our house due to a fire, as well as renovate parts of our outdoor space. Work included replacing an entire wall, replacing floors, putting new insulation in the attic, tile work, and lots of wood work outdoors.
MG construction is the best! They are so friendly and efficient in their work. I could not be more pleased and will definitely work with them again in the future. This project came out fantastic.
Michael was great, he is a true professional. My deck is gorgeous, I got so many compliments from my friends about it. He was on time, always available to me and a joy to work with. My next project with them is in the making!
If you're living in Southern California, chances are you're living for Southern California. Make the most of sunny days and a sublime climate with a deck that connects the outdoors with the indoors.  
With the cutting-edge of local design and top-tier materials, you can truly make the most of your SoCal home. For the best California decks that Los Angeles has to offer, look no further than MG Construction & Decks.
Why Choose MG Construction & Decks?
Our goal has always been to create the highest quality decks that never fail to leave each client satisfied. MG Construction & Decks has held steadfast to our core values and has kept client relationships our top priority. Each project gets individual attention, and we always listen to your goals to create backyard decks that are the stuff of dreams.  
We're a local, family-owned company, so trust us when we say we understand what it's like to want to design a Los Angeles, California deck on your terms for your family home.  
We know that a California deck is a place of family gatherings, outdoor living, barbecues at sunset, birthday parties, and moments of relaxation. At MG Construction & Decks, we use an architect's attention to detail, the cutting-edge for Southern California design, and personalized customer care. The result is the deck you've been waiting for, every time. 
What We Offer
Design dreams vary, and we get that. We're proud to serve the Los Angeles area and meet your decking needs by offering a range of services and projects. Regardless of your size, location, or terrain, our California deck builders work with you to collaborate and create a space for outdoor living that impresses. 
We're pleased to offer several services for construction and California decks, including: 
Los Angeles deck customization, new deck design, and deck construction

Green decks: recycled and sustainable decking alternatives

Electric and plumbing extensions
There are numerous quality decking materials available on the market today. In serving Los Angeles to the best of our abilities and offering the most variety and expertise, our team has certified many times over in different branded materials installation. 
Besides offering variations of composite and wood deck materials, our team has the certification to install the following brands: 
Our Design Process
Our design and deck building process stands out from most. We've honed our process over the past decade since we started, and it's now a well-oiled machine engineered to create beautiful, liveable decks based on your input and desires. From beginning to end, we keep your vision in mind.  
When you break down our process, it's just three simple steps. We first start with the design phase, then move to the refinement and finish with construction. 
1) Design
We're picky about the tools we use to design because we only accept the best for ourselves and our clients.  
We use the most elegant design software to construct our 3-D vision for your outdoor living deck into a rendering that you can picture in your real-life.  
Once the drafting of the initial design is complete, each client and their project manager can virtually walk through the space via the realistic 3-D renderings as a team. Together, you and the project lead can edit choices and update details as you go.  
When you work with MG Construction & Decks, you'll have a say in the design process in a much more hands-on way thanks to this progressive design technology. 
2) Refine
Once we've come up with the right design, it's time to refine it perfectly to fit every measurement, tone, degree of slope, safety requirement, and other property specifications.  
In this stage, we work with the homeowner to confirm the details and finalize the new deck. We utilize a background experience in architecture and structural engineering to comply with all safety and build requirements.  
3) Construct
With the design and logistics squared away, we begin with what we do best: construction.  
We work to bring your ideas to life with our in-house team of California deck builders. Your project manager and the team will handle everything. From any initial demolition and setup to facilitating machinery and materials, to cleaning up the last hammer and nail, you don't have to worry about a thing.  
We'll keep in touch every step of the way and won't quit until we have exceeded your expectations. 
Why We Stand Out 
Are you looking to find the best California deck builders? Look no further than the seasoned, devoted team at MG Construction & Decks. Our Los Angeles, CA team knows you have a lot of options. Here's why we're a notch above the rest: 
We do the job correctly the first time.

We minimize the invasiveness of a deck construction project and strive to complete each job effectively and quickly without sacrificing quality or safety. We listen to your ideas the first go-around and do our best to deliver a product that satisfies you at the first reveal.

We follow the golden rule.

We treat all clients the same way we'd expect from a leading designer and builder in the industry, and we find that it makes for better client relationships and project results all around. 

We innovate.

Have tough terrain? We can work around that. Have a unique idea? We're listening. Not sure you can make it work? We'll try to find a solution. As deck builders, we don't cower in the face of a challenge; we rise to the occasion and innovate upon great ideas to make them even better.

We do everything 100%.

There are no cut-corners when you do business with MG Construction & Decks. We deliver high-quality decks that last. From materials to craftsmanship, we do everything thoughtfully so that you always get what you paid for – and what you deserve. 

Your happiness is our goal.

If we don't deliver a product that satisfies and delights you, we didn't meet our goal. Our goal is your full satisfaction, and we will do whatever it takes to get it. 
Benefits of Building a Deck in Los Angeles
Are you new to Los Angeles, CA, or thinking about making a move? Half of the beauty of living here is the beauty of Southern California itself – make sure you have deck access from your home to make the most of it. You're in a unique position to enjoy the sunshine and breeze all year round, and a deck is a perfect place to do just that.
There's a laid back atmosphere in Los Angeles, and as a local company, we understand how to incorporate those breezy feelings into an outdoor deck for the ultimate outdoor escape. 
Maximize Your Property
A great way to maximize your living space and expand your property beyond the four main walls is to add on a deck to the back yard.  
Since the weather is mild and warm almost all year long, adding extra square footage with a deck essentially adds an extra room to your space. It can become the perfect backdrop for a dinner with friends, a quiet evening with a book, morning yoga in the sun, and so much more.  
By working with – not against – the architecture of your home and natural landscape of your neighborhood, we can turn your backyard into a gorgeous outdoor living space that serves the California lifestyle. 
Expanded Views
There's no argument against Los Angeles having some of the most magnificent views and cityscapes. Whether you're on the beach, the valley, the hills, downtown, or the outskirts, there's something beautiful to see.  
With an outdoor deck built by MG Construction & Decks, you can expand your views in every direction and take in more of the natural beauty. After all, what good is a backyard view if you only see it from a 3×3 window? 
From House to Home
It's often the little touches or additions that turn a house into a home. Your house can accomplish the same transformation by adding on a deck in the backyard.  
A deck is much more than extended flooring; it's a way to immerse yourself in the fresh air and sunlight without a trek. It's a place to spend time with loved ones and a place for solitude on quiet mornings. These little moments make all the difference, and we build decks to make them happen.  
Transform Your Backyard
What was once a lowly, untouched space behind your house can transform into a real-life oasis for outdoor living with a few expert design choices and an experienced deck-building team.  
By taking into account your needs and desires, your home's architecture, the terrain of the land, and any unique circumstances, our deck builders can create completely custom decks for every customer, every time.  
If you've been thinking about turning out back into a place the whole family can enjoy in Los Angeles, CA, don't hesitate to contact MG Construction & Decks to learn more about our services.
Call the experts at MG Construction & Decks!
Drought Tolerant Landscape Design and Construction
Sustainably Harvested Exotic Hardwoods
Recycled Low Maintenance Composite Materials
Licensed, Bonded and Insured Builder
Let Us Start Building For You
Permits and Plans
Bathrooms, Kitchens, Full Remodeling, Painting and Flooring. We can upgrade your living space into your dream home.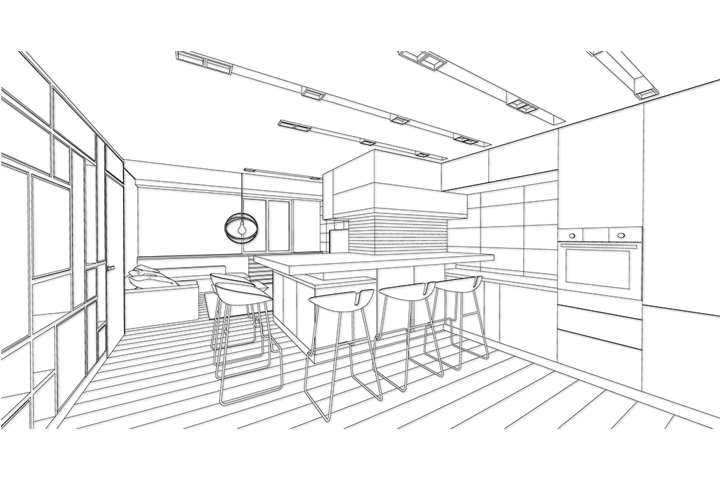 Interior Remodel
Bathroom, Kitchen, Bedrooms, Painting, and Flooring. We can upgrade your living space into your dream home.
Exterior Remodel
Decks, Patios, Pergolas, Outdoor Kitchens, Pools, Fences and more. We can turn your outdoor space into an Oasis.