Sometimes adding a deck to the second story of a home is just the right thing to do. There are, to be sure, a few compelling reasons for this step. For example, houses built on steep slopes. Second story decks, in fact , are sometimes the only possible decks.
Moreover, even when a property's layout doesn't compel it,  a second-story deck can still be an attractive home upgrade. Its elevation might serve up a great view. Or perhaps the lot is small, and the ground space under the deck much in demand. Maybe the homeowner simply loves the perk of a decked master bedroom. Whatever the reason is, though, second-story deck design and  construction present challenges as well as opportunities. Grist, of coruse for the MG Construction & Decks team's mill.
It's worth noting that the code and permitting issues around second story decks may be more complicated. Not to worry – we've got your back.
ACCESS TO SECOND STORY DECKS
One design hurdle is access from the home.  After all, architects rarely have second-story decks in mind when designing homes.  Hence, a typical second story doesn't have any exterior doors.  Why would it? In that case, we consider that we'll have to cut a new door through a second story wall.
Thereafter we encounter the next hurdle. Is the wall we've selected load-bearing? If it is, that doesn't rule out cutting a door through it. It does, however, require extra attention.  And additional expertise in structural engineering.  Our expert team would likely plan on installing what we call a "header" with the new door. A header consists of wood or steel structural elements around the door frame. They take over supporting the vertical load formerly borne by the wall alone. Basic engineering principles mean that we don't have total flexibility in locating a new scond-story door. We would not, for example, cut a new door directly above an exterior door on the floor below.
SECRETS WITHIN THE WALLS
Load-bearing or not, residential walls also have their other secrets. Such as electrical wiring and plumbing. In choosing the location for a new door, we must weigh our preferences against the costs of re-routing these elements. It can be done. The question is whether a cost-saving compromise, in terms of the new door's exact location, might not be preferable.
BELOW DECK
Now, to a unique feature of second-story decks: the ground space below it.  If it's level, why not design in some productive use of it? At the very least, it's a fine place to tuck away the less-attractive items such as trash bins and air conditioning compressors. On the other end of the spectrum is a second deck or a patio. Why not? In fact, by  adding sheeting under the second-story deck planks, and engineering drainage, we can create a rainy-day backup there. A double-decker!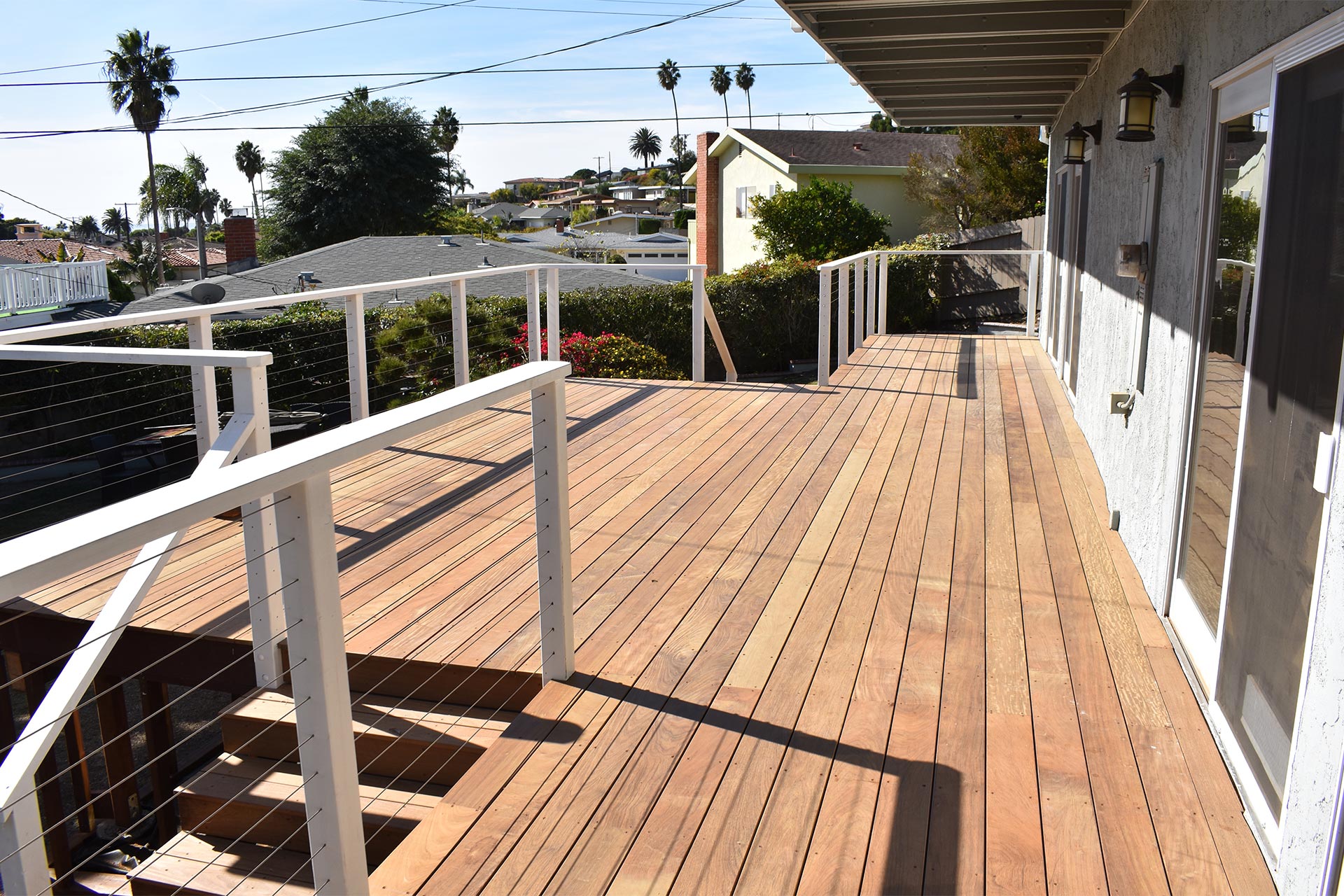 MG Construction & Deck
s offers several interior and exterior remodeling services in Los Angeles California. There is no project too small or too large. However, the majority of our focus has been focused on: