We've posted a lot of material about decks. Designing, building, extending, and remodeling them. Furthermore, we've discussed the merits of various building materials. In brief; there's very little ground we haven't covered in our posts. We've probably noted the obvious fact that accessibility is a key design criterion. French doors come to mind.
After all, a deck must be readily accessible from the house, and vice versa.  In other words, movement between the two, both of bodies and of gazes should be seamless. French doors are an upgrade that undeniably meeets those requirements..
BEAUTIFUL AND PRACTICAL
To begin with, the scale and dimensions of French doors promote visual continuity between two spaces.  At the same time, they mark a boundary. With curtains or blinds French doors become as walls, assuring privacy. It's surely not just about appearances, either.  Human traffic flows freely through French doors. So, moreover, do large objects and cool breezes. As a gateway between a home's interior and exterior living spaces French doors are both attractive and practical.
FRENCH DOORS INSTALLATION
Installing a French door upgrade for deck access starts with identifying the best location for the doors.  The choices may, however, be somewhat limited by the way French doors operate.  The doors themelves swing open from the center, on hinges anchored to the edges.  The ideal resting place for open French doors is, of course, the house wall. In other words, a complete half-circle ( 180 degrees) of swing.  Doors can swing out to open, or swing in. It's a matter of preference and practicality. It's worth checking the appplicable building code, too.  Sometimes after severe storms or earthquakes the regulators start requiring exterior doors to open one specific way or the other.
…IF IT AIN'T GOT THAT SWING
From a planning standpoint, it's important to realize this means that there can't be any fixed obstacles (railings, for example) inside the "swing zone".  Existing windows may, in the same fashion, impose another kind of restriction. Many homeowners are averse to having an open French door obstruct a window.  In addition, if the upgrade involves making a new opening in a house wall, attention must be paid to locations of wiring, plumbing, and structural elements inside that wall.
TAKE YOUR PICK
Location set, it's therafter time to pick the doors themselves.  There's more choice out there now in addition to the classic divided glass panes design.  There are inactive door models, in which only one of the doors is "real", the other being fixed. This design can solve some problems in which obstacles in swing zones make opening one door impossible. It's a nice compromise where needed. The type of glass, color, frame materials, and styling details are all up for grabs.
As Los Angeles deck builders and general contractors, MG Construction & Decks has the ideal knowledge base and skill set for creating a French door deck access upgrade. Give us an existing conventional doorway, or a blank wall, and we'll marry your interior and exterior living spaces the French way.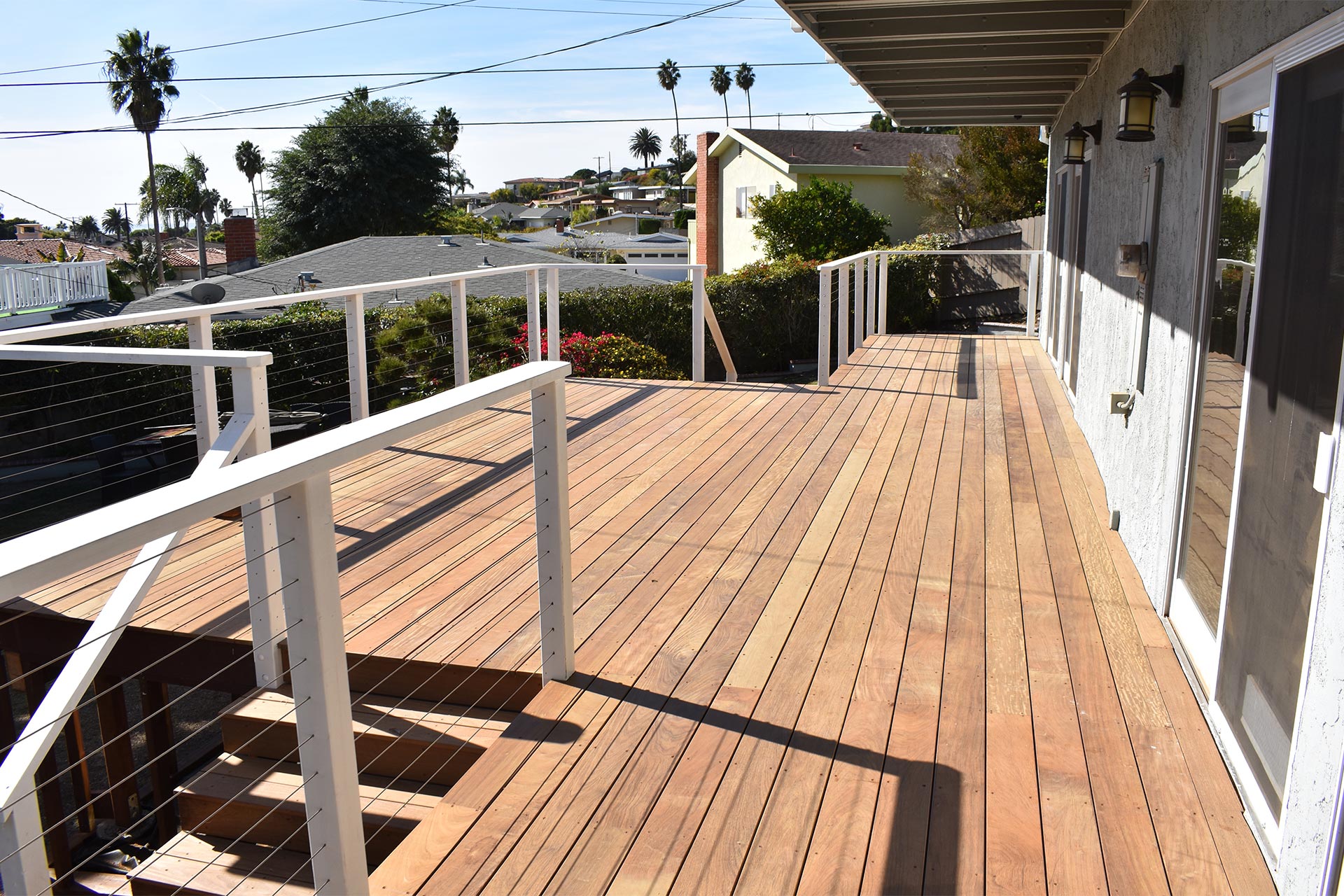 MG Construction & Decks offers several interior and exterior remodeling services in Los Angeles California. There is no project too small or too large. However, the majority of our focus has been focused on: