How to Install Timbertech Decks on Existing Decks
If you have an existing wooden deck but now have a liking for Timbertech decks, a full replacement can be a costly affair. You will need to have the entire structure of the deck removed which will involve a considerable effort and labor costs. On average, taking down a deck will cost you somewhere between $5 and $15 per square foot. The actual costs depend on a number of factors including the condition of the decks and the ease of removal. This means that for a 12-by-12-foot deck, you can expect to spend between $700 and $2,200 on removal.
If you are a homeowner considering a deck replacement, it is very natural to wonder if you can have a Timbertech deck installed right on top of the old one. If that were possible, you stand to save a significant amount in terms of the removal costs.
Replanking an Existing Deck
It is generally not advised to install a new deck on top of an old one. However, if you are considering Timbertech decks, you can choose replanking. Replanking is when you only remove the topmost surface planks of a deck. You don't need to remove the substructure so that it can be used as a base for the new deck. On this substructure, you can install the Timberteck decking. However, you will need to make sure the substructure meets certain requirements.
Substructure Requirements for Timbertech Decks
Planks for Timbertech decks usually weigh more than most wooden deck planks. So it is important to determine whether the existing substructure can bear the extra load of Timbertech decking. You should also see if the substructure is code-compliant before installing Timberteck planks on top of it. If there are issues with code compliance and you go ahead with the replanking anyway, you may be forced to make expensive corrections down the road.
A final consideration is water drainage. Once you remove the older planks, it is the perfect time to check that water is draining properly from the deck. If not, repairs must be performed on drainage before you can apply the new set of planks. If you are not sure whether your substructure meets these requirements, it is best to consult a contractor.
Start Your Deck Project
Composite Timbertech decks offer a wide range of benefits. However, they typically cost more than wooden decks. And if you have an existing deck, removal costs will only add to your total expenses. This is where you can save by considering replanking. Replanking will not only make it easier to have Timbertech decks installed, it will also speed up the replacement process.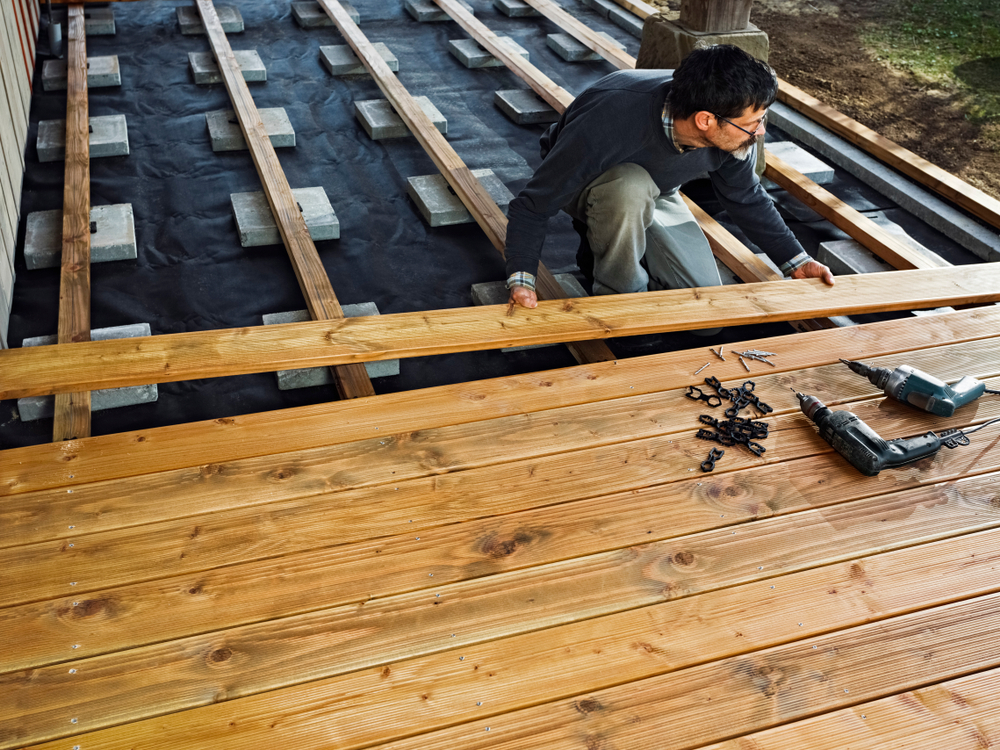 If you're thinking about adding a deck to your property, your planning should take into account ROI variables. Materials, size, access, and the "wow factor" all contribute to a prospective buyer's perception of the value added by a deck to the property. It's worth becoming familiar with deck construction in the comparable properties in your area so you can position yours where you want to be value-wise. Another value relationship to consider is that between your deck budget and the overall value of the property. It doesn't make ROI dollars and sense to build something too grand for the size and likely resale price of the home. One rule of thumb used by contractors and architects is that a deck should be no larger than the home's biggest interior space. 
Keep in mind, too, that adding value to your home gets the attention of the assessor and the underwriter, so your property taxes and insurance premiums are like to be increased. Like anything else built by human beings, a deck will inevitably require some maintenance and/or repair as time goes by. Good choices of materials, with expert design and construction, are the ticket to keeping those costs down and your enjoyment and ROI up.