POOL DECK BUILDING IN LA
At MG Construction & Decks, we build decks that always leave our customers satisfied. With client relationships as our top priority, we take the time to really listen and understand your goals for your new backyard.
Your backyard parties will get a whole lot better!
Family Owned and Operated
Sustainable and recycled options for decking
Plumbing extensions
Custom Design and Construction
Electrical extensions
Plans and Permit Management
Let Us Start Building For You
About MG Construction & Decks
At MG Construction & Decks we put the customer first. Our goal is to have a long and trusting relationship with our clients. We are a family owned and operated company. Michael Maor Gabso is a general contractor with an eye for design. We have been in the construction business for over a decade building and designing homes and backyards. Michael is a third generation contractor. His attention to detail and his personal customer service is why MG Construction & Decks has been rated one of the top contractors in the Los Angeles area year after year. We love turning your remodeling and construction dreams into a reality.
License #1031761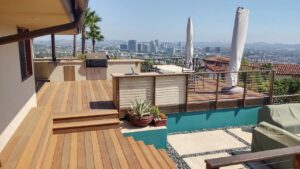 Below Are Some Of Our Recent Projects In LA and the Surrounding Area
Our work speaks for itself, but see what some of our satisfied customers had to say about our services.
I wish I could give MG Construction MORE than five stars! We are absolutely thrilled with the transformation of our backyard. What impressed me initially was Michael's design vision, which was far more creative than the other five contractors I interviewed. His attention to detail, his amazing workers and the responsiveness of his staff (thank you, Natalie!) made this process easy; way easier than we anticipated. We now have a beautiful deck, patio, and pergola, and can't believe it's the same space! We're definitely going to hire Michael and his team again, when we do more upgrades to our house!! Thank you, MG Construction!!
– Nina S.
Our patio was cold and uninviting and we struggled with ideas on how to fix it. Then came MG Construction. Michael's ideas and designs completely transformed our outdoor space. It is now a beautiful and relaxing space. We are so pleased with the work they did – very high quality, professional, dependable and friendly. The wood deck is gorgeous, and the overhang provides the perfect amount of privacy and coverage and we love its design. I can't recommend MG Construction enough!
– Rebecca M.
We truly could not be happier with our new deck!!!! MG construction have absolutely exceeded our expectations. Michael, Melissa and the wonderful hard working builders were so kind, so accommodating, so professional and helpful when it came to designing and building our deck. We truly could not believe the progress they were making in such a short amount of time… We also hardly even noticed we had workers at our home as they were SO quiet and tidy and professional it was as though they were fairies!!!! I would one thousand percent recommend MG Construction for any of your construction needs. They are 10/10, brilliant in every single way. We have had so many comments on the pristine job they did… I am over the moon and can not wait to spend time on our beautiful new deck. Thank you team MG CONSTRUCTION we are SO HAPPY and plan to have you back for our next project. :):):):):)
– Alex P.
Michael is the man! I needed a deck and wasn't even sure where to start! He explained the differences in materials, style and size and was able to tailor a quote to what I wanted. He checked in on my project a few times and made sure it went according to plan. I was so happy with the results! I would recommend him to anyone that wants their project made easy.
– Heather R.